July 21, 2003: Hunter's battle ends in the Ultimate Cure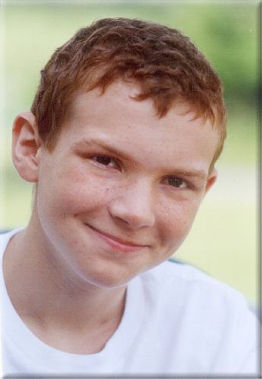 The sun smiled down and warmed the chilly March day Hunter Atkinson entered the world. His bright and happy personality brightened every room and many lives, and his personal light has never dimmed. Even though his physical presence has been taken from us, his incredible lessons will live on in the many people he has touched over the years.
This website is dedicated to a very special young man whose spirit was far wiser than his years. By the time he died at age 13, he'd known more suffering and joy than many of us find in a lifetime. Perhaps this is a childhood cancer thing, but I tend to think it's just who Hunter was. His unique perspective led him to be very proactive in his treatment, from hunting down his own alternative therapies and making arrangements with practitioners at age 12 to brainstorming biomedical cures for cancer. In his final days, when he knew for a fact that he was leaving us, he wasn't scared, but upset that he wouldn't have time to accomplish all that he had in mind. In the end, though, he left this world with an amazing message.
You've stumbled upon this site for one reason or another, and the chances are that it's a good place for you to be. If Hunter's story is new to you, please take a moment to peruse the site and get to know him better, chapter by chapter. Before you leave, please help us celebrate him.
Ready? Grab your tissues, but don't forget to laugh!
---
Before we begin, let me take a brief moment to introduce myself to you. My name is Heather, and I'll be taking you on this little journey. Though the Atkinsons are not flesh-and-blood family, they couldn't be more dear to me. I met Betsy in college when she was pregnant with Hunter. In my second year of college, I lived with the family as a student and helped to care for Baby Hunter, and I've had the joy of watching both Hunter and Mariah evolve from infants into amazing young adults. Hunter has several "mothers", and I feel blessed to be among them. He called me his "parental unit," so I cal, him "my" boy, my Rocketman.
One more note: I was not the individual in charge of chronicling Hunter's initial battles, but those pages still exist as of 2009, and can be found here.
Home | Hunter's Story | Notes & Celebrations | Hunter's Cure Book | "Hunterisms" | Hunter's Message